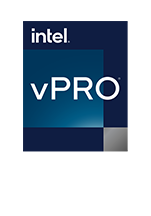 The Ultimate IT Power-Up
Developed with IT heroes in mind, Intel vPro® Enterprise for Windows, powered by the 12th Gen Intel® Core™ processor, is tuned and tested for demanding business workloads.

Professional-grade performance that adapts to your business.
Get professional-grade tools to help enhance productivity, secure data and simplify fleet management on a validated, reliable platform — so you can save the day every day.

Professional-grade Performance1
Leverage the power of 12th Gen Intel® Core™ processors' performance hybrid architecture that intelligently allocates real-world workloads and enterprise applications to the right thread on the right core at the right time.

Multilayer Security
With security that goes beyond software, including built-in features for security below the OS, application and data security, and advanced threat detection, Intel vPro® provides comprehensive, multilayer security. 

Comprehensive Management2
With Intel vPro®, IT heroes like you can remotely discover, repair and help protect networked PCs — even those outside the corporate firewall or those that can't boot.

Reliable Stability
The demanding design requirements and rigorous testing ensure that all brands of PCs built on Intel vPro® deliver a reliable stable foundation for smoother fleet management and allow you to scale with confidence.
The leading edge
Intel vPro® powered by 12th Gen Intel® Core™ processors delivers better productivity, smoother multitasking and enhanced collaboration with business-class Wi-Fi technology for videoconferencing.