Rugged in Healthcare
Healthcare matters
The NHS has long relied on large quantities of paper. But as part of its Long Term Plan, providers are expected to advance to a core level of digitisation by 2024.1

New technology on the frontline will allow medical practitioners to operate far more effectively to save more lives. They'll be easier to contact in an emergency, able to access patient records at the click of a button and saved from having to re-enter data at a workstation.

However, in fast-paced medical environments, equipment can face considerable wear and tear, and practitioners can't afford for their devices to fail them at critical moments.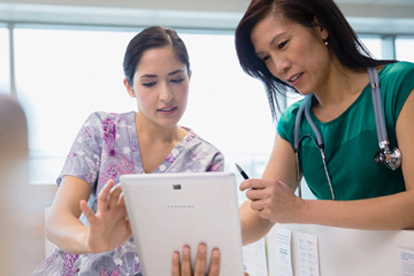 Rugged devices can withstand the punishment they are likely to receive. They're protected from drops and water damage, while their long-lasting batteries won't fail workers during lengthy shifts. They're also sensitive enough to be used whilst wearing gloves, so you can guarantee safety protocols are followed.

Finally, it's more important than ever that medical organisations take security seriously. 15% of all breaches in 2019 involved healthcare organisations,2 so your devices must be capable of protecting sensitive medical records. Choosing devices with built in defence-grade security will ensure both medical staff and patients can be confident that their data is safe.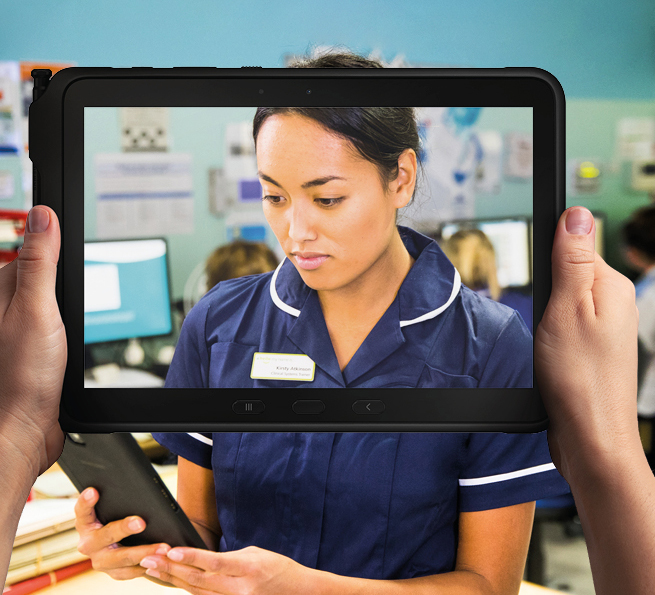 Improving patient care with digital remedies
Samsung technology is helping UK hospitals do more, be more effective and improve the patient experience.
Rethinking the patient experience

As soon as they arrive in a connected hospital, patients will notice the difference – electronic signage shows them how to get around and they can even check themselves in with a few simple taps of a tablet.

Patients can easily see their results and treatment schedule on devices. On the ward, clinicians can also use screens to update their patients so they have a better understanding of their condition, creating a much better relationship between clinician and patient.

The patients themselves can use the technology to contact loved ones and friends, making their stay much more personal and comfortable.

Smarter patient monitoring

When clinicians use medical software on tablets and mobiles, accurate observations can be taken and recorded in a much more efficient way. Real-time observations can be logged instantly, meaning trends and patterns are spotted much quicker. When clinicians have access to records there's no need for patients to repeat their medical history every time.

Chelsea and Westminster Hospital is already seeing the benefits of a connected, digital hospital and estimate that they can save between 50-60 lives using the ThinkVitals app.

Samsung technology can also increase patient safety. Mobile devices and wearables can be used so clinicians can track where their patients are and monitor their vital signs. They can be located and immediate assistance provided, if necessary.

Bed management

When prescriptions are dispensed electronically, medication can be ready as soon as the patient is discharged. This means patients aren't stuck in hospital waiting to leave and the beds can quickly be made available for the next patient*.

* Samsung devices and in-built software are not manufactured for medical or therapeutic purposes. Compatible third party medical software required .
1 NHS (2019) Long Term Plan
2 Verizon (2019) 2019 Data Breach Investigations