APTARE IT Analytics™
Insight can help you with your storage optimisation and consolidation powered by APTARE IT Analytics.
Unified insights for multi-vendor backup, storage and virtual infrastructures.
Unified IT Analytics for Hybrid and Multi Clouds
Centralised visibility for your multi-vendor IT infrastructure.
Request a demo session with your Insight specialist today.
APTARE IT Analytics is the only extensible platform offering unified insights for multi-vendor backup, storage and virtual infrastructure in heterogeneous IT environments. It offers unmatched, comprehensive IT analytics, delivering actionable insights through a single-pane-of-glass across on-premises and hybrid and multi cloud environments.
With APTARE IT Analytics you can:
Optimise storage and costs.
Mitigate risk to meet service-level agreements (SLAs).
Streamline backup compliance.
Gain visibility into storage and backup performance and integrity.
Implement chargeback for storage, backup and virtualisation.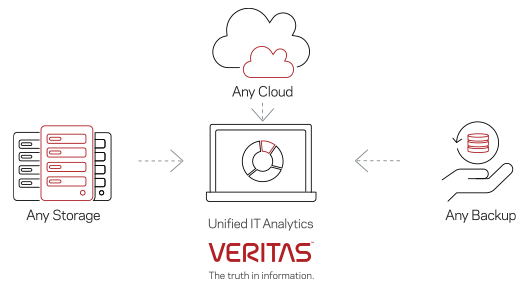 New in APTARE IT Analytics 10.3
Support for Veeam, Oracle RMAN, Cohesity, Rubrik, ECS, Unity and Hyper-V.
Rules-based alerting for multi-vendor storage and data protection environments along with new additions to data collection. Receive alerts and trigger automation based on data collected from your infrastructure, reducing time-to-resolution.
Get new insights and faster root cause analysis with Alert Trending and drill-down reporting.
Set rules specific to your environment based on historical data.
Storage Optimisation from Veritas
Powered by APTARE IT Analytics
Multi-Vendor Backup Management

Streamline Backup Auditing and Reporting

Reduce the complexity of data protection while minimizing human error and proactively identifying problems.

Consistent, reliable backups are critical, but administrators often encounter consistency problems in the form of incomplete or failed backups, putting valuable data and potentially the entire organization at risk. Additional complexities can result if organizations use multiple backup solutions across their IT environment.

Multi-Vendor Storage Management

Optimize Storage Resource Management

Effectively manage data storage resources and fully utilize available storage.

The APTARE IT Analytics Storage Management Suite helps organizations proactively manage multi-vendor storage environments across on-premises and hybrid clouds, optimize storage performance and ultimately decrease capital expenditures. Administrators gain insight into actual consumption of resources, so they can reclaim unused storage, reduce consumption and increase resource utilization.The APTARE IT Analytics Storage Management Suite is a tightly integrated suite of the three core products: Capacity Manager, Fabric Manager and Virtualization Manager.

Infrastructure Chargeback

Adopt IT-as-a-Service

Drive demand management for storage, backup and cloud.

IT infrastructure is growing rapidly on-premises and in the cloud due to exponential data growth. Yet budgets are not keeping pace with this growth. Chargeback enables IT to operate as a service provider, understand where budget is being spent, and charge back cost to end-customers or business units by capacity and performance. APTARE IT Analytics can also be used to provide justification for data growth in specific areas of the business, further aligning IT with your business' objectives.