Meet Insight's
Leadership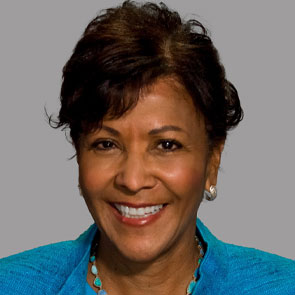 Glynis Bryan
Chief Financial Officer
Insight
Glynis Bryan has been leading the financial team at Insight as Chief Financial Officer (CFO) for more than 15 years. Joining the company as CFO in 2007, Bryan has navigated the organisation through multiple acquisitions and growth periods.
Before she was Insight's CFO, Bryan was the executive vice president and CFO for Swift Transportation Inc. from 2005 to 2007. Before that, she was CFO at California-based shipping firm APL Logistics from 2001 to 2005.
Bryan earned a bachelor's degree in psychology before entering the financial analysis realm and pursued an MBA in finance at Florida International University. After her MBA, she worked at Ryder System Inc., staying with the company for 16 years. She honed her financial and analytical skills as she rose to senior vice president of Ryder and CFO of the company's largest business unit, Ryder Transportation Services.
Today, Bryan plays an integral role in shaping strategy and positioning resources for meaningful growth. The fast pace of the IT industry continues to intrigue Bryan, who remains an eager and inquisitive student of the IT industry, working to keep the company agile and responsive in an ever-evolving market.
About Insight
Insight Enterprises, Inc. is a Fortune 500 solutions integrator with more than 11,500 teammates worldwide helping organisations accelerate their digital journey to modernise their business and maximise the value of technology. We enable secure, end-to-end transformation and meet the needs of our clients through a comprehensive portfolio of solutions, far-reaching partnerships and 33+ years of broad IT expertise. Rated as a Forbes World's Best Employer and certified as a Great Place to Work, we amplify our solutions and services with global scale, local expertise and a world-class e-commerce experience, realising the digital ambitions of our clients at every opportunity. Discover more at insight.com. NSIT-M
Gain knowledge from our leadership.
Insight executives and industry thought leaders share their perspectives on IT and the industry in a variety of content available to view now.