The esteemed accreditation from Great Place to Work in collaboration with The Economist Group is given to organisations which display an exceptional workplace culture.
Insight EMEA has today been named one of Great Place to Work's 2021 Best Workplaces in Europe. The respected award is given to organisations which display an exceptional workplace culture.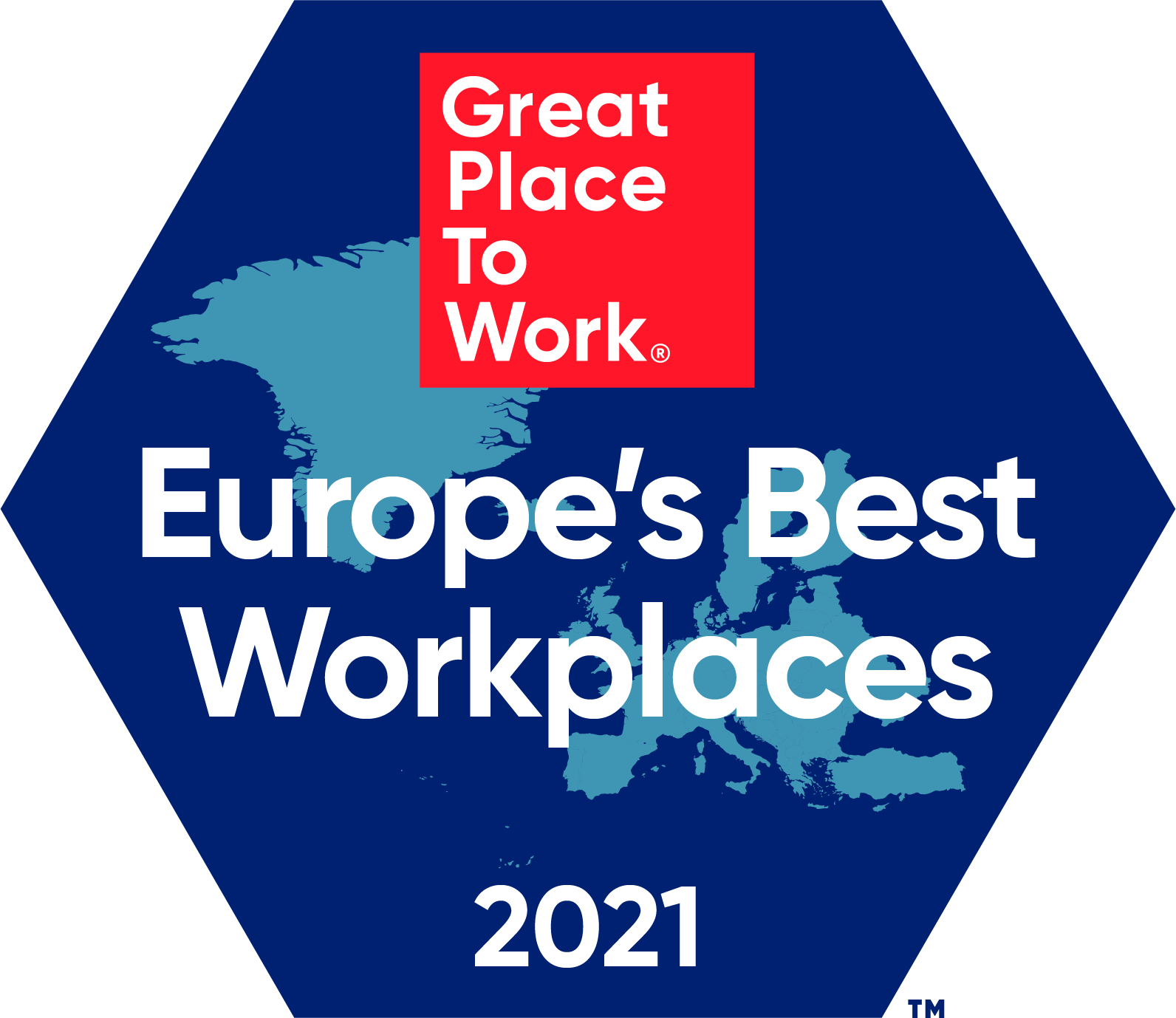 Great Place to Work®, the global authority on workplace culture, in collaboration with The Economist Group, has declared Insight EMEA one of Great Place to Work's Best Workplaces in Europe™ in 2021, after Insight Italy ranked 47th in Europe's medium-sized business category and Insight UK ranked 26th in Europe's large-sized business class.
This win builds upon a number of recent accolades received by Insight from Great Place to WorkTM. These include being crowned one of Great Place to Work's 2020 UK, Italy and Austria Best WorkplacesTM, as well as Great Place to Work's Best Workplaces for WomenTM. Insight was also recognised by Great Place to Work™ for its Excellence in Wellbeing.
According to Great Place to Work®, to be named among the best in Europe, companies must first rank highest on Great Place to Work's Best Workplaces™ National Lists across the region. This recognition is based on confidential survey data assessing employee experiences of trust, innovation, company values and leadership.
Companies are also evaluated on how well they are creating a For All™ workplace experience, inclusive of all employees no matter who they are or what they do. This year, COVID-19 brought physical and mental well-being front of mind for both employers and employees.
Emma de Sousa, EMEA President, said: "At Insight, the key to our success is our people. They have helped to shape our diverse, inclusive culture, living and breathing our core values of Hunger, Heart and Harmony every single day.
"We pride ourselves on the fact that we embrace the different skillsets, perspectives and backgrounds of employees across the organisation. With the social and economic turbulence caused by Covid-19, to be recognised as one of the best workplaces in Europe is testament to how our teammates have come together during this time."
On average, 85% of employees at companies that made the list said they experience well-being at work (defined by factors such as feeling cared for and believing their workplace is a psychologically and emotionally healthy place to work). Compared to those who don't consistently feel wellbeing at work, people who did were:
4.4 times more likely to say they want to work there for a long time.
3.7 times more likely to say work/life balance is encouraged.
2.8 times more likely to say management's actions matches its words.
Stefan Tonnon, Vice President Human Resources EMEA, said: "The Covid-19 pandemic has had a profound impact upon society. From the way we live to how and where we work – it has been a period of transformation for us all.
"I am proud to be part of an organisation where the strength of our culture, underpinned by our core values of hunger, heart and harmony, stands out, and has been recognised by Great Place to Work®.
"Our values and our culture set us apart from other organisations and that's down to Insight teammates. If the last 12 months have taught us anything, it's the importance of ensuring our teammates feel engaged, valued and connected. Their wellbeing has been top of mind, every step of the way."
Great Place to WorkTM is the global authority on building, sustaining, and recognising high-trust, high-performing workplace cultures. Since 1981, they have been celebrating companies globally for elevating the employee experience through exceptional workplace culture.
The Best Workplaces in Europe™ list is published here: https://bestworkplaces.economist.com/
About Insight
Today, every business is a technology business. Insight Enterprises Inc. empowers organisations of all sizes with Insight Intelligent Technology Solutions™ and services to maximise the business value of IT. As a Fortune 500-ranked global provider of Digital Innovation, Cloud + Data Centre Transformation, Connected Workforce, and Supply Chain Optimisation solutions and services, we help clients successfully manage their IT today while transforming for tomorrow. From IT strategy and design to implementation and management, our 11,000 teammates help clients innovate and optimise their operations to run business smarter. Discover more at www.uk.insight.com
How Great Place to Work determines the Best Workplaces in Europe™
Great Place to Work® identifies the Best Workplaces in Europe™ by surveying employees about the key factors that create great workplaces for all and analyzing company workplace programs impacting over 1 million employees in Europe.
To be considered, companies must first be identified as outstanding in their local region by appearing on one or more of our Best Workplaces™ national lists in Austria, Belgium, Cyprus, Denmark, Finland, France, Germany, Greece, Iceland, Ireland, Italy, Luxembourg, Norway, Poland, Portugal, Spain, Sweden, Switzerland, The Netherlands, Turkey and United Kingdom during 2020 or early 2021.
Companies rank in four size categories: small (10 to 49 employees); medium (50 to 499 employees); large (500+); and multinational. Multinational organizations are also assessed on their efforts to create great workplaces across multiple countries in the region. They must appear on at least three national lists in Europe and have at least 1,000 employees worldwide with at least 40% (or 5,000) of those employees located outside the headquarters country.
About Great Place to Work®
Great Place to Work® is the global authority on workplace culture. Since 1992, they have surveyed more than 100 million employees around the world and used those deep insights to define what makes a great workplace: trust. Great Place to Work helps organizations quantify their culture and produce better business results by creating a high-trust work experience for all employees. Their unparalleled benchmark data is used to recognize Great Place to Work-Certified™ companies and the Best Workplaces in the U.S. and more than 60 countries, including the 100 Best Companies to Work For® and the World's Best lists published annually in Fortune. Everything they do is driven by the mission to build a better world by helping every organization become a great place to work For All™.
To learn more, visit greatplacetowork.com and join the community on LinkedIn, Twitter, and Instagram.
About Insight
Today, every business is a technology business. Insight Enterprises Inc. empowers organisations of all sizes with Insight Intelligent Technology Solutions™ and services to maximise the business value of IT. As a Fortune 500-ranked global provider of Digital Innovation, Cloud + Data Centre Transformation, Connected Workforce, and Supply Chain Optimisation solutions and services, we help clients successfully manage their IT today while transforming for tomorrow. From IT strategy and design to implementation and management, our 11,000 teammates help clients innovate and optimise their operations to run business smarter. Discover more at www.uk.insight.com