Insight named one of the UK's 2022 Best Workplaces™ for Wellbeing by Great Place to Work®
The UK's Best Workplaces™ for Wellbeing is awarded to organisations where employees declare they experience high levels of wellbeing in their workplace.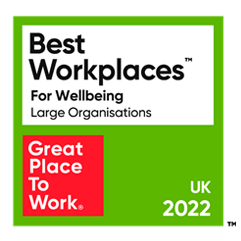 London, 17th February 2022 – Insight has today been named one of the UK's Best Workplaces™ for Wellbeing in 2022 in the Large Organisations category. The respected accolade is awarded by Great Place to Work®, the global authority on workplace culture.
This recent honour is an addition to other recent awards Insight UK has been proud to receive from Great Place to Work®. Amongst them are The Great Place to Work's® Best Workplaces™ in Europe 2021, the Great Place to Work's® Best Place to Work in Tech 2021, and the Great Place to Work's® Best Workplace for Women 2021.
According to Great Place to Work®, in order to be named one of the UK's Best Workplaces™ for Wellbeing 2022, feedback from thousands of employee surveys was analysed, asking employees to comment on how their company supports their:
Work-life balance
Sense of fulfilment
Job satisfaction
Psychological safety
and financial security.
An assessment of the organisation's ability to deliver consistency of their employee experience across all departments and seniority levels also contributed to the evaluation.
Darren Hedley, UK Managing Director at Insight, said: "It fills me with tremendous pride to see that the people in our organisation feel that Insight is a harmonious and inclusive place to work. So much so, we have been classified one of the UK's Best Workplaces™ for Wellbeing 2022, by Great Place to Work®. At Insight UK, as well as across the entire Insight global network, people are integral to everything we do. They not only drive, but also shape the company's culture and are a main contributor to the organisation's overall success."
Stefan Tonnon, Vice President Human Resources EMEA, said: "The best working environments are those where teammates feel valued, respected and supported – it not only creates an inspiring and collaborative atmosphere, but ultimately teammates will be able to bring the best version of themselves to work.
"At Insight, we strive to create a diverse and inclusive workplace where our teammates are supported. One of the many examples of how we look to achieve this is through our Insight Wellness calendar, which outlines great opportunities for teammates to get involved in health, fitness, wellbeing, charity, and personal development opportunities. It is an honour to receive the UK's Best Workplaces™ for Wellbeing 2022 award, as it is a testament to the great working culture at Insight."
To access the UK's Best Workplaces™ for Wellbeing (2022) by Great Place to Work® ranking, visit https://www.greatplacetowork.co.uk/
For more information about Insight, visit uk.insight.com or call 0344 846 3333.
Fast Facts
Insight was founded in
1988 and has global headquarters in Tempe, Arizona.
We provide intelligent technology solutions - hardware, software, cloud and support services.
We have operations in 21 countries and serve clients in more than 180 countries.
We're Microsoft's No. 1 Global Licensing Solution Provider.
Insight offers support in 15 languages.
---
About Insight

Today, every business is a technology business. Insight Enterprises Inc. empowers organisations of all sizes with Insight Intelligent Technology Solutions™ and services to maximise the business value of IT. As a Fortune 500-ranked global provider of Digital Innovation, Cloud + Data Centre Transformation, and Connected Workforce solutions and services, we help clients successfully manage their IT today while transforming for tomorrow. From IT strategy and design to implementation, management and supply chain optimisation, our 11,000 teammates help clients innovate and optimise their operations to run business smarter. Discover more at uk.insight.com.
Contacts

Amie Mulderrig
Insight Direct UK
Tel. 0844 692 5118
Email: amie.mulderrig@insight.com
Melissa John
Insight Direct UK
Tel. 0734 271 6154
Email: melissa.john@insight.com