HP Device as a Service
HP Device as a Service helps IT reduce the cost and complexity of device lifecycle management with the right devices, repair services, and AI-driven analytics in a predictable payment.
A simple solution to optimise your resources
Optimise your IT assets and resources with HP Device as a Service (DaaS)1, a complete solution that combines hardware, insightful analytics, proactive management, and device lifecycle services.

The right device for the job
Choose a device mix that's as unique as your business, with a wide selection of HP commercial notebooks, desktops, mobile, and specialised devices.

Management with Insight
Secure and manage multi-OS devices2, proactively identify and mitigate issues with HP TechPulse, and let our Service Experts3 perform daily management for you.

Flexibility for your business
Tailor your solution with device lifecycle services and financial terms to meet your needs with the convenience of a single price per device.
Make IT less complex and maximise your budget
Why HP DaaS
HP Device as a Service (DaaS) delivers a modern service model that simplifies how commercial organisations equip users with the right hardware, support, device management, and lifecycle services to get the job done – improving end user productivity, IT efficiency, and cost predictability.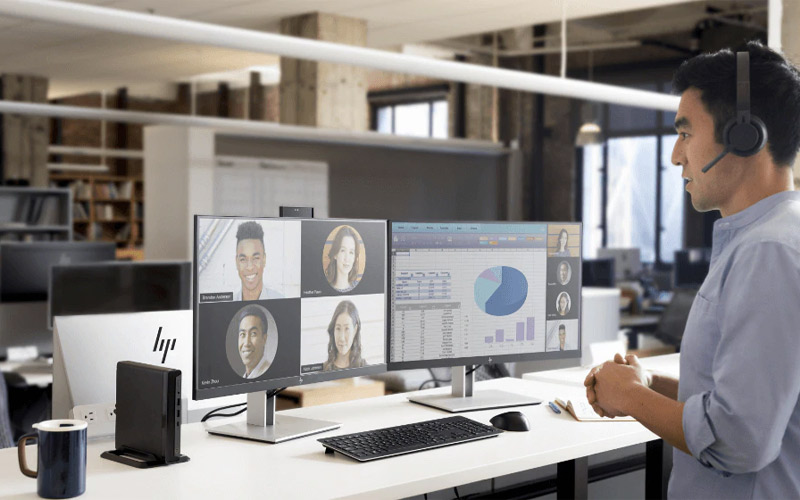 HP Device as a Service for Apple®
Optimise your IT assets and resources with HP Device as a Service (DaaS) for Apple10, which combines Apple® devices, insightful analytics, proactive management, and device lifecycle services.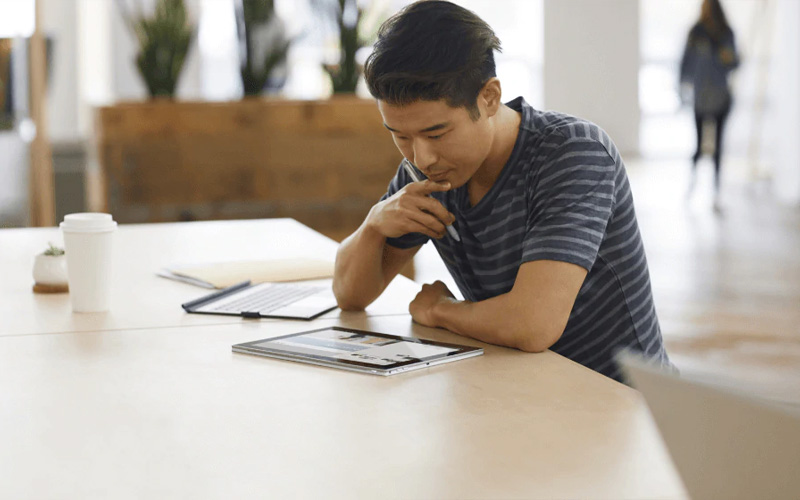 Proactive Security
Transform endpoints from your biggest risk to your best defence.
Enhance the secure management capabilities of HP Device as a Service (DaaS) with HP DaaS Proactive Security.15 It provides real-time malware protection for computing endpoints, security and threat analytics, and specialised expertise to help you strengthen your security position.


What is HP Device as a Service?
With HP Device as a Service (DaaS), you get a complete hardware, support, analytics and unified endpoint management solution with more predictable IT spending. Offload the time-consuming tasks of supporting, securing, and managing multi-OS devices so you can focus on what moves your business forward. Reduce the complexity of purchasing with simple, flexible plans easily tailored to your specific business needs.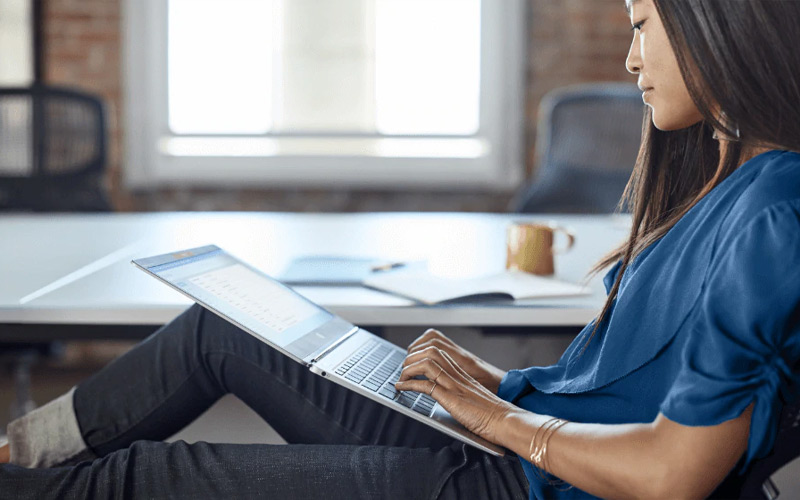 Reduce IT cost and complexity
Device provisioning,6 world-class care, and AI-driven analytics2 optimises the device lifecycle.
Free up cash flow
With a predictable payment,3 you can prioritise budget based on your business needs.
Improve the employee experience
Match users with a device and configuration best suited for their computing needs.
Minimise security risk
Built-in security on HP devices7 and security insights8 help address issues before they affect users.
Multiplatform environments can be challenging
Maintaining a secure and manageable IT environment can be challenging especially with the addition of personal devices entering the workplace leaving many companies susceptible to security breaches. HP DaaS simplifies these challenges by managing a diverse assortment of desktops, workstations, and mobile devices so your business can operate to its full potential without the worry of unsecure endpoints and unmanaged devices.
---
| | | | | |
| --- | --- | --- | --- | --- |
| | | Standard | Enhanced | Premium |
| Devices | • Desktops, notebooks, workstation, and a continually expanding portfolio of devices and accessories | ✔ | ✔ | ✔ |
| Hardware Support | • Next-day break/fix service | ✔ | ✔ | ✔ |
| | • Accidental damage protection | | ✔ | ✔ |
| | • Defective media retention | | ✔ | ✔ |
| Customer success management | • An Account Delivery Manager for onboarding support and regular check-ins | | ✔ | ✔ |
| Analytics and proactive management | • Hardware and software inventory and health monitoring | ✔ | ✔ | ✔ |
| | • Dashboard with analytics and reports | ✔ | ✔ | ✔ |
| | • Security and compliance status | ✔ | ✔ | ✔ |
| | • End-user self help | ✔ | ✔ | ✔ |
| | • A proactive HP Service Agent to help you monitor and manage your fleet | | ✔ | ✔ |
| | • Predictive analytics | | ✔ | ✔ |
| | • Device locate/alarm/lock/wipe | | ✔ | ✔ |
| | • Secuirty policy setting and enforcement | | ✔ | ✔ |
| | • Automatic parts replacement | | ✔ | ✔ |
| | • Remote assistance | | ✔ | ✔ |
| | • Windows information protection | | | ✔ |
| | • Password recovery | | | ✔ |
| | • Application deployment | | | ✔ |
| | • OS and third-party patch management | | | ✔ |
| | • Wi-Fi provisioning | | | ✔ |
Trademark Information
Please read these terms carefully before using this site.
Ultrabook, Celeron, Celeron Inside, Core Inside, Intel, Intel Logo, Intel Atom, Intel Atom Inside, Intel Core, Intel Inside, Intel Inside Logo, Intel vPro, Itanium, Itanium Inside, Pentium, Pentium Inside, vPro Inside, Xeon, Xeon Phi, Xeon Inside, and Intel Optane are trademarks of Intel Corporation or its subsidiaries in the U.S. and/or other countries.
*Other names and brands may be claimed as the property of others.
Microsoft, Windows, and the Windows logo are trademarks, or registered trademarks of Microsoft Corporation in the United States and/or other countries.
"World's most secure and manageable PCs" (HP Elite platforms Nov 2016 forward)
*Based on HP's unique and comprehensive security capabilities at no additional cost and HP Manageability Integration Kit's management of every aspect of a PC including hardware, BIOS and software management using Microsoft System Center Configuration Manager among vendors with >1M unit annual sales as of November 2016 on HP Elite PCs with 7th Gen and higher Intel® Core® Processors, Intel® integrated graphics, and Intel® WLAN.
1. HP DaaS includes hardware, repair services, and analytics components and may include financing. HP DaaS requirements may vary by region or by Authorized HP DaaS Service Partner. Please contact your local HP Representative or Authorized DaaS Partner for specific details in your location. HP services are governed by the applicable HP terms and conditions of service provided or indicated to Customer at the time of purchase. Customer may have additional statutory rights according to applicable local laws, and such rights are not in any way affected by the HP terms and conditions of service or the HP Limited Warranty provided with your HP Product.
2. HP Proactive Management Standard, Enhanced or Premium is required for analytics to be included.
3. Payment solutions may be available through HP Integrated Financial Solutions endorsed finance partners, subject to country location, credit approval, and other restrictions. Not all services or offers may be available and not all customers may qualify. HP Integrated Financial Solutions' partners may change or cancel program at any time without notice.
4. For full system requirements, please visit www.hpdaas.com/requirements. The HP Chromebox Enterprise G2, HP Chromebook Enterprise 14A G5, and HP Chromebook Enterprise x360 14E G1 are currently available as a service via HP DaaS.
5. Service levels and response times may vary depending on your geographic location. Service starts on date of hardware purchase. Restrictions and limitations apply. For details, visit www.hp.com/go/carepack.
6. HP Device Provisioning Services is not included and is a separate add-on.
7. HP Elite devices include HP Sure Click and HP Sure Sense.
8. HP security services are not included and can added and integrated into any Device as a Service solution.
9. HP survey (conducted April 2020 with 442 ITDMs in the US, Japan, and UK).