The Intel Unite® solution
See how the new Intel Unite® solution improves content sharing and collaboration. Easy for IT to manage, easy for users to connect securely — anytime, anywhere.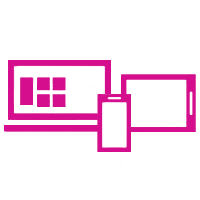 Open Platform
The Intel Unite® solution works with what you have, connecting all major devices, OSs, and displays. Plugins from the Intel Unite® app showcase let you easily add existing tools and functionality, like Skype for Business, Zoom, in-room controls, whiteboarding, and more.

More Secure and Manageable
Based on an Intel vPro® platform hub computer, the Intel Unite® solution can be remotely managed like any other computer in your environment. All content shared on the platform is fully encrypted with 256-bit SSL and access codes refresh frequently for added security.

Seamless User Experience
Users can join, share files, and switch presenters with a click. And each connected display can support up to four shared screens. Meetings start-up faster and run more smoothly, keeping everyone's focus where it's needed most.
Seamless collaboration
The Intel Unite® solution is a fast, simple, cost-efficient way to deliver a more secure, manageable, high-quality collaboration experience. Whether you select the on-premise or the new cloud option, the solution works with your existing technologies and provides controlled content sharing. It is easy to use, supports a range of devices and operating systems, as well as many business plugins, and requires minimal training for end users.
A tool for modern learning
The Intel Unite® solution is helping to create richer, more active learning experiences in schools –it's a cost-effective approach that's easy to deploy and use. Intel Unite® solution gives educators a simpler, better way to create a rich, active learning environment for students, making it easier to share content, engage audiences, and increase collaboration in classrooms and other learning spaces.
Improving information sharing and patient care
The Intel Unite® solution allows clinicians to securely and wirelessly share digital information to any screen —within or outside the facility —improving coordination, collaboration, and patient care. With the Intel Unite® solution, healthcare professionals can more easily share medical information with their team members and patients —all using their existing infrastructure.
Product and Performance Information
1Intel® technologies' features and benefits depend on system configuration and may require enabled hardware, software or service activation. Performance varies depending on system configuration. No product or component can be absolutely secure. Check with your system manufacturer or retailer or learn more at https://www.intel.co.uk.