Computing range
Introducing Samsung's computing range for business.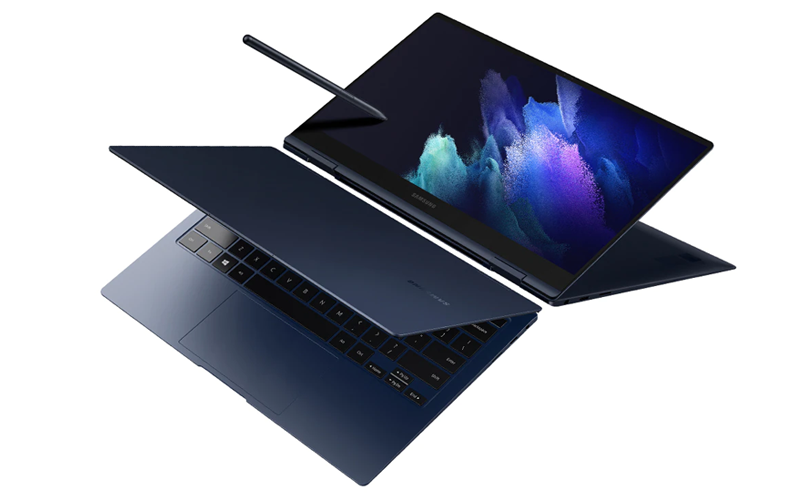 Computing for Business
Designed to be your anywhere office, the laptops combine high performance with astounding displays that are clearly visible inside or out. The computing for business range offers faster connectivity with both Wi-Fi and 4G compatibility. Plus, our partnership with both Microsoft and Google has enabled us to create devices that can do so much to help you stay productive on the move.
Why Samsung?
In the new world of work, employees need robust computers that help them adapt to different ways of working. Our latest range is built on Samsung hardware and manufactured to ensure the highest levels of quality.
We've taken everything we've learnt from our bestselling mobile devices and integrated it into our computing range. Thin and light mobile computing boasts Wi-Fi 6E connectivity plus stunningly clear AMOLED displays.
All our laptop devices work seamlessly with the wider Samsung ecosystem of products i.e., our phones, second screen, or pairing with Samsung Galaxy Buds with ease.
Ecosystem
Today's workforce needs to always be connected and able to use the right tools for the job.
Our computing range connects seamlessly with the wider Samsung Galaxy ecosystem of products to enable you to work how you want, wherever you want—boosting productivity and adapting to the new hybrid working lifestyle.
Switch with ease between your phone and your Samsung Galaxy Book or Samsung Chromebook. Add a monitor or use your Tab S7 as a second screen for an extended display. Plus, you can use your S Pen to send notes directly to your device.
No need to carry multiple wires, our Galaxy Books have a compact USB-C charger that can be used to charge any compatible Samsung device, such as your phone, tablet, or Samsung Galaxy Buds.
Services
Digital mobility is essential for businesses now more than ever—and they need to feel supported without interruption. With Samsung's dedicated UK-based free Business Service Centre, you get unlimited technical support—offering partners and customer IT departments help with hardware, software or integration with 3rd party tools. And now, your business can get support to make the most of our new computing range.
Rest assured that all our Galaxy Books come with 3 years manufacturer warranty* and Samsung Chromebooks come with our 12 months** manufacturer warranty. Plus, we'll pick up faulty devices, repair and return to the user as soon as possible to avoid interruptions in productivity.
You can also opt for 3 years Enhanced Service***, providing Next Business Day replacement device with Doorstep Exchange and annual Knox health checks to ensure everything is working correctly.
Enhanced Service can also be extended to 4 or 5 years giving you long-term return on investment.
Software
As combined business tools, our software and Galaxy Book range deliver true productivity for your workforce.
Samsung DeX allows you to connect your compatible Galaxy smartphone or tablet and use your device on your Windows desktop.
Samsung Notes enables your ideas to be shared seamlessly via auto-syncing across your devices with Samsung Cloud.
Quickshare allows users to send files instantly to nearby Samsung devices—no more connecting to servers to share your work with colleagues.
Link to Windows means you can have your favourite mobile apps like messages appear directly on your Galaxy Book—no need to remove your phone from your pocket.
Partnership
Samsung and partners working together to give you more.
Stay connected and focussed with powerful partnerships that enable you to do more. Samsung has joined forces with Microsoft and Google to deliver a suite of productivity apps that sync across your phone and the Samsung Galaxy Book and Samsung Chromebook range.
Security
Rest assured your Samsung Galaxy Book or Chromebook is already protected with built-in defence-grade security.
With our Microsoft and Google partnership, you can work anywhere with confidence knowing that you have multiple layers of extra protection, so if any one layer is bypassed, others are still in effect.