A changing landscape
We are in an era of unprecedented economic uncertainty. Organisations of all types have seen the need to accelerate digital transformation to: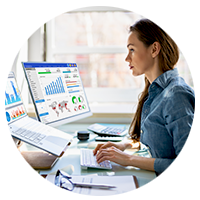 Enhance human
experiences
Accelerate productivity and efficiency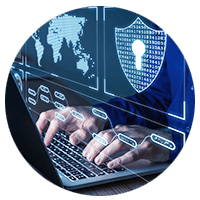 Ensure the highest security standards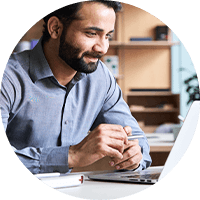 Improve sustainability
efforts
Powering you to Do More with Less.
Organisations are being presented with the need to Do More with Less. This unique set of challenges can be addressed by harnessing the power of Microsoft's cloud technology and Insight's services.
Do More with Less with Azure
Save on infrastructure and energy costs, improve operational efficiency, and future-proof your business when you migrate to Azure.
Innovation
Reinvest to accelerate growth

• Bringing new decision-making capabilities from data transformation to drive growth and tap untapped business potential

• Achieve 61% average revenue increase from data transformations and building a data driven business
Agility
Infrastructure that's built to be dynamic


• Azure offers an agile infrastructure that can adjust, develop and grow with your business

• Up-skill your workforce to develop new applications, not manage infrastructure
Resilience
Reliable infrastructure that performs

• Ensure platform performance and business resiliency for their most critical business applications

• Mitigate the $4.3M average cost of a security breach with built-in, enterprise grade security features
Complexity
Optimise your cloud investments

• Optimise existing Azure workloads to ensure these are efficient and well-architected, saving up to 37% over 3 years with workloads on Azure.

• Remove infrastructure costs and improve operational efficiency with cloud automations and consistent management
Cost
Migrate to Azure and save

• Achieve up to 85% savings versus pay-as-you-go when migrating Windows & SQL Server licenses with Azure Hybrid Benefit

• Manage escalating data centre energy costs
Time
Refocus your team & deliver more value

• Realise productivity gains, enabling your teams to work more efficiently, empowering them focus on delivering value

• Manage your on-premises, edge, and multi-cloud environments more efficiently with Azure Arc
"Insight helped us appreciate what was possible with Microsoft 365 and completely understood what we wanted to achieve. The tailored discovery workshop plus the technology and support from Insight has enabled our team to work collaboratively at a whole new level. Insight transformed our working environment." IT Director, UK Real Estate Company
Do more with less with Microsoft 365
Maximise the impact of Microsoft 365 solutions while simplifying licensing, management, and vendor landscapes.
Innovation
Be innovative to stay competitive

• Improve your employees productivity, and ability to innovate with easier collaboration

• Free up your team to spend more time with customers
Agility
Meet the needs of the modern worker

• Empower teams with the flexibility to work from anywhere

• Recruit and retain the best talent with technology that enables their best work
Resilience
Enhance & simplify your security stack

• Protect the modern digital anywhere worker

• Lessen data breaches and protect; identities, devices apps and data
Complexity
Simplify IT management
& licensing

• Eliminate redundant solutions with seamless, native integration and single license
• Automate system updates & provisioning
Cost
Reduce your IT costs by
up to 40%

• Consolidate your requirements to a single supplier
• Simplifying your IT management, freeing up your team to focus on higher-value activities

Time
Realise efficiencies & refocus on clients

• Reduce the time taken to manage devices management by up to 24%

• Enable your teams to refocus their time on customers
Cloud Transformation Outlook
Sponsored by Microsoft and conducted by Emerald Research Group, this research provides insights into how enterprise organizations around the world are managing their cloud Migration and Modernisation strategies and their outlook for how it is evolving over the next few years as they do more with less.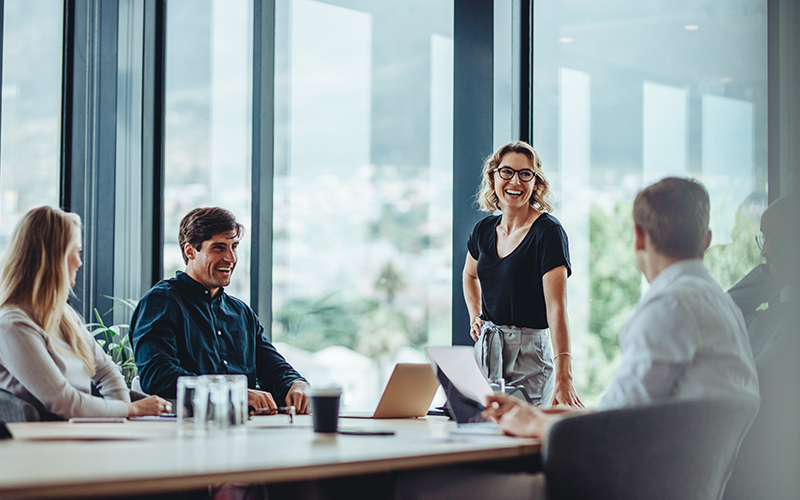 Microsoft 365 Workshop for Mid-sized businesses
Insight are offering a free, interactive digital workshop to help you
understand the benefits of M365 and how to utilise your
license to adapt to ever-changing business needs.
View upcoming workshops
Getting the most from Microsoft 365 Workshop
Explore the features of your Microsoft 365 licenses
and how to collaborate effectively with
our interactive workshops.
View upcoming workshops
Start your do more with less journey
Insight's services are designed to support you in navigating today's ever-changing business environment, with our teams of technical experts and decades of industry experience. Wherever you are on your IT journey, from procurement through to support we can deliver.
Complete the form below, to understand how you can do more with less and one of our specialists will be in touch to discuss the next steps.