Crucial at Insight UK
Crucial®, a brand of Micron, boasts one of the most comprehensive offerings of memory and storage product lines in the industry.
The memory and storage experts.™
Memory and storage are crucial — your desktop or laptop won't work without them. Every time you press the power button, move your mouse, load apps, type, or save documents, you're using memory and storage. When it comes to choosing a brand, four factors are critical: expertise, compatibility, reliability, and commitment. As a brand of Micron®, Crucial® is integrated into one of the largest memory manufacturers in the world, providing the same technology that gets prebuilt into new computers. We live and breathe memory and storage, and we're here to transform your system's performance.
174,000+ Systems compatible with Crucial products. Nearly every system in existence
93,000+ product reviews 4.8 out of 5 average rating
190 Countries Crucial products are available in over 190 countries and territories.
Maximise Speed and Performance
Crucial Desktop and Laptop Memory
Upgrading memory is one of the fastest, easiest, and most affordable improvements you can make to your computer — and you'll notice the difference in performance right away. All Crucial memory modules are 100% component and module tested. It is backed by one of the industry's most in-depth quality test programs, and with more than 40 years of manufacturing expertise, and a limited lifetime warranty. Crucial memory is built to last.
Crucial Storage solutions
Solid state drives (SSDs) access data almost instantly and are significantly faster and more reliable than traditional hard drives. NAND flash memory within Crucial SSDs allows you to boot up in seconds and load, save, and transfer files almost as soon as you click on them. Upgrade your desktop PC, laptop, Mac® system, or workstation today by installing an SSD that's extremely energy-efficient and inherently more durable than a hard drive..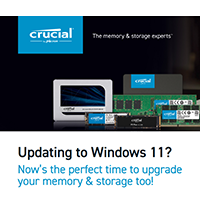 If you're updating your operating system to Windows 11, isn't it time to think about upgrading your memory and storage too?
Download the PDF
Micron and Crucial Memory & SSD Selector
Find compatible memory and SSDs to make your PC, laptop, MAC, Server faster and more efficient.