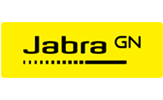 Jabra PanaCast
Engineered to be the world's first intelligent 180° Panoramic-4K plug-and-play video solution.
The Jabra PanaCast Series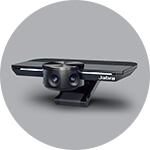 Take that meeting where you are.
When you have the right equipment, anywhere is a meeting room. PanaCast lets you keep up with your meetings while working from wherever.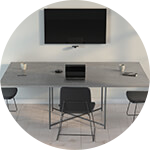 Huddle up, without huddling in.
While huddling together is off the table, you can still make use of your small meeting rooms safely, with PanaCast.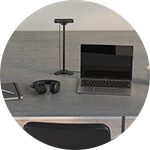 The more you know.


There's never been a better time to learn something new and PanaCast is the perfect tool for distance learning.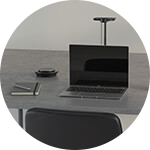 The doctor will see you now.
From routine check-ups to phone consultations, PanaCast makes it easy to connect with your patients and staff remotely, and safely.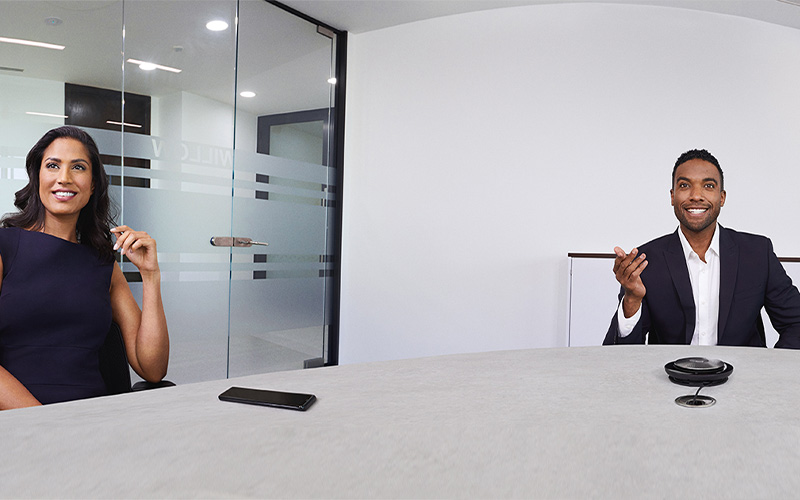 Perfect for social distancing in small meeting rooms
Over 50% of meetings now occur in small meeting / huddle rooms. With a screen and the right collaboration technology, they're perfect for meetings with colleagues in the office, home and across continents.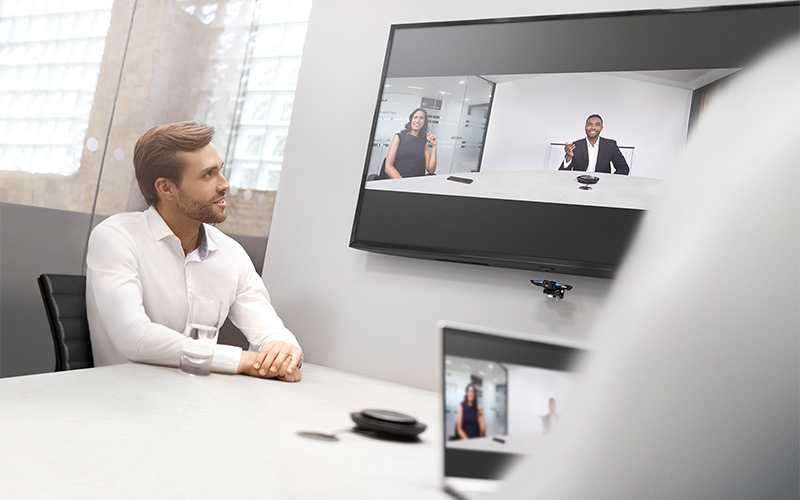 Unique, real-time video stitching for a natural 180° view
Enhance your huddle room with Panoramic 4K video. The Jabra PanaCast uses three 13-megapixel cameras and patented real-time video stitching to give a full 180° view of the room. Enjoy a natural, human perspective, with no blind spots.
Plug-and-play with minimal setup required
Plug-and-play capability makes collaborating fast and easy; simply plug the Jabra PanaCast into your laptop or computer's USB port and you're ready to go.

Meet right out of the box with the Jabra PanaCast bundle

Industry-leading audio and video solutions, complete with accessories, that instantly let you meet anywhere. Start any meeting, anywhere, right out of the box with: Jabra PanaCast, Speak 710, USB-Hub and Table Stand. Now available all together. Collaboration has never been so easy.
Jabra PanaCast 50

Jabra PanaCast 50 is an advanced meeting room solution, engineered to be the first new-normal-ready intelligent video bar*. With outstanding high-quality 180° Panoramic 4K video technology, world-leading professional-grade audio, and a range of intelligence-driven features including Intelligent Zoom, Virtual Director, live whiteboard content camera streaming, and Safety Capacity and Room Usage Insights, PanaCast 50 is the future of video conferencing.
Our first new-normal-ready intelligent video bar
In a world where we're more physically separated than ever, you need great audio and great video for your remote meetings. But you also need to make your offices and collaboration spaces safer for everyone who uses them.
With our industry-leading professional audio, advanced and innovative 180° video technology and a range of unique intelligence-driven features, PanaCast 50 gives you the power to put safe, socially distanced meetings back on the table – whatever your 'new normal' looks like.
We've reinvented collaboration for the new normal.
Outstanding 180° Video
All in.
In addition to our world-leading audio, we've gone all-in on inclusive video that keeps everyone, well… all in.
Three 13-megapixel cameras, mounted in a high-precision, multi-camera array, cover every part of the room.
But here's the really clever part:
Our patented real-time video stitching technology intelligently decides exactly the right point to live-stitch the three feeds together, creating a smooth, 180° view in high-definition Panoramic-4K.
That means nobody is squeezed together, distorted or missing from the picture. Jabra PanaCast 50 puts inclusive meetings back on the table, safely.
We've gone all-in on getting you all in.
Jabra PanaCast 20

Jabra PanaCast 20 is an outstanding portable device, engineered for AI-enabled personal video conferencing, with intelligent capabilities like our unique Picture-in Picture mode. With premium AI-powered 4K Ultra-HD video quality, PanaCast 20 delivers the perfect image every time, taking outstanding video collaboration beyond the office walls to include home and on-the-go use. Pair with industry leading Jabra headsets or speakerphones for a premium audio experience.