The Workflow Station Dock
The Workflow Station Dock is a flexible, modular station that works with any combination of up to 4 readers, either the Workflow SD Card Reader or the Workflow microSD Card Reader for simultaneous files transfers to a Mac or PC at USB 3.2 speeds. The card readers can also work as standalone card readers without the dock.
Workflow Station and Readers
Kingston's Workflow Station and Readers provide a flexible system to transfer video, photos and audio from multiple sources at once.* Expedite your post-production workflow and create a file offload setup that fits your needs. The Workflow Station Dock is customisable so you can use only the USB miniHub, SD readers or microSD readers that your shoot requires. Whether you're on a 4K/8K multi-cam shoot with portable audio recorders for each host, or filming B-Roll with drones and GoPros, you can connect up to four readers to the dock simultaneously and transfer footage quickly. The Workflow Station and Readers support USB 3.2 speeds, which get you to your post-production process faster than ever. For added flexibility, the card readers can be used on the go. When you need to shoot on location, simply drop the hub or readers you need into your bag and connect them to your laptop using the included USB-C® cable.
• Transfer video, photos and audio from multiple
sources at once.
• Use the card readers with the dock or on the go*
• Flexible system to help future-proof your workflow
• Incredible USB 3.2 speeds

Industrial microSD
Kingston's Industrial microSD card is designed and tested to withstand the most demanding environmental factors. With an operating temperature of -40°C to 85°C, it can operate normally even in extreme desert heat and subzero conditions. The card utilises industry-leading pSLC mode to provide top transfer speeds of up to 100MB/s1 . It is rated up to 1920 TBW2 with 30K P/E cycles and has a built-in feature set specific to endurance, performance and industrial needs.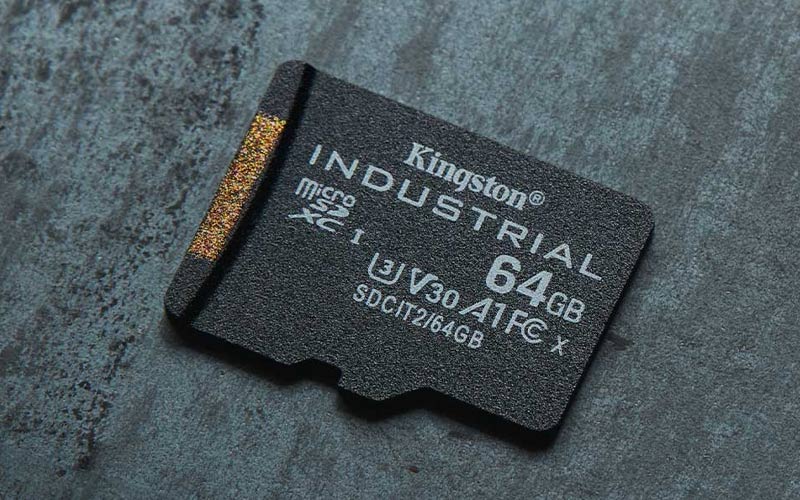 Canvas Plus range. Find a card that works for you.