Insight recognised as one of the UK's Best Workplaces™ for Wellbeing
Great Place to Work® ranks Insight UK 16th in the category 'super large organisation'.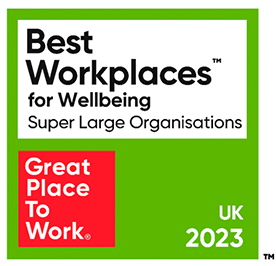 London, 15th February 2023 - Insight Enterprises (NASDAQ:NSIT), a Fortune 500 solutions integrator helping organisations accelerate their digital journey, has been named one of the UK's Best Workplaces™ for Wellbeing (2023). The recognition from Great Place to Work® is awarded to organisations based on their culture, employee experience and workplace environment, and employee survey results.
According to Great Place to Work®, their assessment considers employee work-life balance, sense of fulfilment, job satisfaction, psychological safety and financial security. The holistic approach to wellbeing across the organisational structure is also considered, to determine the company's ranking.
Darren Hedley, UK Managing Director at Insight, comments: "At Insight we see our teammates as the heart of the organisation and integral to our business success as THE Leading Solutions Integrator. It is thanks to our employees that Insight has built an inclusive, supportive and friendly culture, underpinned by our values of hunger, heart and harmony. It fills me with immense pride that Insight UK has been awarded this accolade, as is testament to what a wonderful working environment we have created."
The recognition follows on from previous awards for Insight UK including being named Great Place to Work® in Tech by Great Place to Work® in 2022.
For more information on Insight, visit uk.insight.com. Learn more about how Insight ranks in the 2023 UK's Best Workplaces™ for Wellbeing list here.
---
About Insight

Insight Enterprises, Inc. is a Fortune 500 Solutions Integrator with 13,000 teammates worldwide helping organisations accelerate their digital journey to modernise their business and maximise the value of technology. We enable secure, end-to-end transformation and meet the needs of our clients through a comprehensive portfolio of solutions, far-reaching partnerships and 35 years of broad IT expertise. Rated as a Forbes World's Top Female-Friendly Company and a Great Place to Work, we amplify our solutions and services with global scale, local expertise and a world-class e-commerce experience, realising the digital ambitions of our clients at every opportunity. Discover more at uk.insight.com. NSIT-M
Contacts

Melissa John
Insight Direct UK
Tel. 0734 271 6154
Email: melissa.john@insight.com
Michelle Ali
Insight Direct UK
Tel. 0782 799 0472
Email:  michelle.ali@insight.com