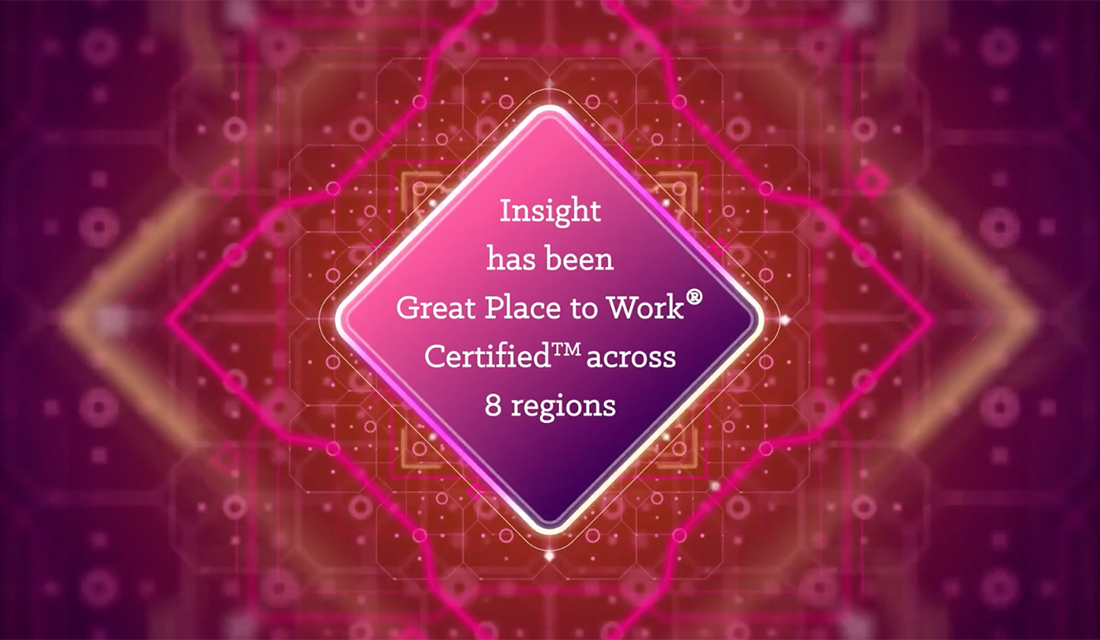 Insight EMEA Awarded Great Place to Work Certification across Eight Countries
Certification highlights Insight's continued commitment to building an outstanding workplace culture across its European offices.


London, England, October 25, 2023 — Insight Enterprises (NASDAQ:NSIT), a Fortune 500 Solutions Integrator driving client success through digital transformation, has been certified across Austria, Belgium, France, Italy, Netherlands, Spain, Sweden and the United Kingdom by Great Place to Work®. The certification has been awarded to Insight for its exceptional employee experience, recognising Insight's outstanding and consistent workplace culture across its EMEA locations.
Determined through a two-step process, Great Place to Work® certifications are given based on employee survey results and workplace questionnaire responses. Through independent analysis and feedback from employees, organisations with the best performing company culture are identified.
"Creating an outstanding working environment for employees is something every organisation hopes to achieve," said Adrian Gregory, Insight EMEA President. "Being certified by Great Place to Work® across so many of our European regions is testament to the incredible Insight teammates in EMEA, who not only live our Insight company values every day, but also go above and beyond to create a diverse, inclusive and well-rounded working environment. I am proud that as a leading Solutions Integrator, we have created a workplace culture that extends to our entire EMEA operations, bringing together our employees in different countries as one team, satisfying the differing technological needs of our global clientele."  
The certification follows a number of other workplace recognitions for Insight including a ranking amongst the top 25 Best Workplaces in Europe™ 2022. Forbes has also recently listed Insight as a World's Best Employer, scoring No. 115 in its 2023 overall rankings, and No. 14 among IT services companies.
"At Insight, we strive to support our teammates in every way possible, fostering a company culture that sets up our teammates for success," said Angela Hughes, VP Human Resources at Insight. "But to create and maintain a truly outstanding workplace , it is up to the many people across the workforce to embrace and live those values. This certification across so many of our Insight locations truly exemplifies our European teammates' dedication to our values of Hunger, Heart and Harmony."

To find out more about Insight's culture and values, read our 2023 Insight Corporate Citizenship Report. For more information on Insight, visit uk.insight.com.

---
About Insight

Insight Enterprises, Inc. is a Fortune 500 Solutions Integrator with 13,000 teammates worldwide helping organisations accelerate their digital journey to modernise their business and maximise the value of technology. We enable secure, end-to-end transformation and meet the needs of our clients through a comprehensive portfolio of solutions, far-reaching partnerships and 35 years of broad IT expertise. Rated as a Forbes World's Top Female-Friendly Company and a Great Place to Work, we amplify our solutions and services with global scale, local expertise and a world-class e-commerce experience, realising the digital ambitions of our clients at every opportunity. Discover more at uk.insight.com. NSIT-M
Contacts

Melissa John
Insight Direct UK
Tel. 0734 271 6154
Email: melissa.john@insight.com
Michelle Ali
Insight Direct UK
Tel. 0782 799 0472
Email:  michelle.ali@insight.com