Three solutions in one
Microsoft 365 unites Office 365®, Windows® 10 / 11 and Enterprise Mobility + Security to deliver an empowering trio for businesses.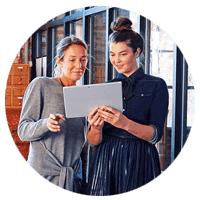 Office 365
Gain access across devices, along with essential collaboration tools and apps.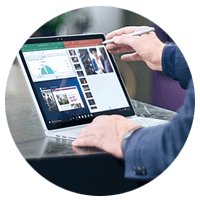 Windows 10 / 11
Experience the familiarity of your desktop and operating system, no matter the device.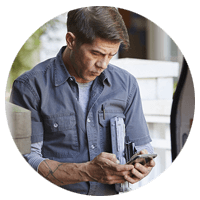 Enterprise Mobility + Security
Secure from the cloud for advanced identity, device management and more.
Microsoft 365 for enterprise
Enterprises can choose between two plans: Microsoft 365 E3 and Microsoft 365 E5. Microsoft 365 Enterprise helps employees be creative and work together securely.
Enable teams to work naturally with ink, voice and touch — backed by tools that use artificial intelligence and machine learning. The solution unifies IT management across all users, devices, apps and services. And, it safeguards critical data with built-in, intelligent security.
We'll take your productivity to the next level.
The right partner helps you realise the full potential of cloud-based collaboration. Insight Cloud Care enhances your Office 365 experience with full-service onboarding, monitoring and support.
Learn more
Microsoft 365 for business
Gain a business solution that supports up to 300 users. Microsoft 365 Business integrates with Office 365 Business Premium for tailored security. And, it offers management features from Windows 10 / 11 and Enterprise Mobility + Security.
Help teams connect by uniting employees, customers and suppliers. With Microsoft 365 Business, employees can work from anywhere, on any device. Protect your company data across multiple devices, with always-on security.
How Microsoft 365 Enterprise compares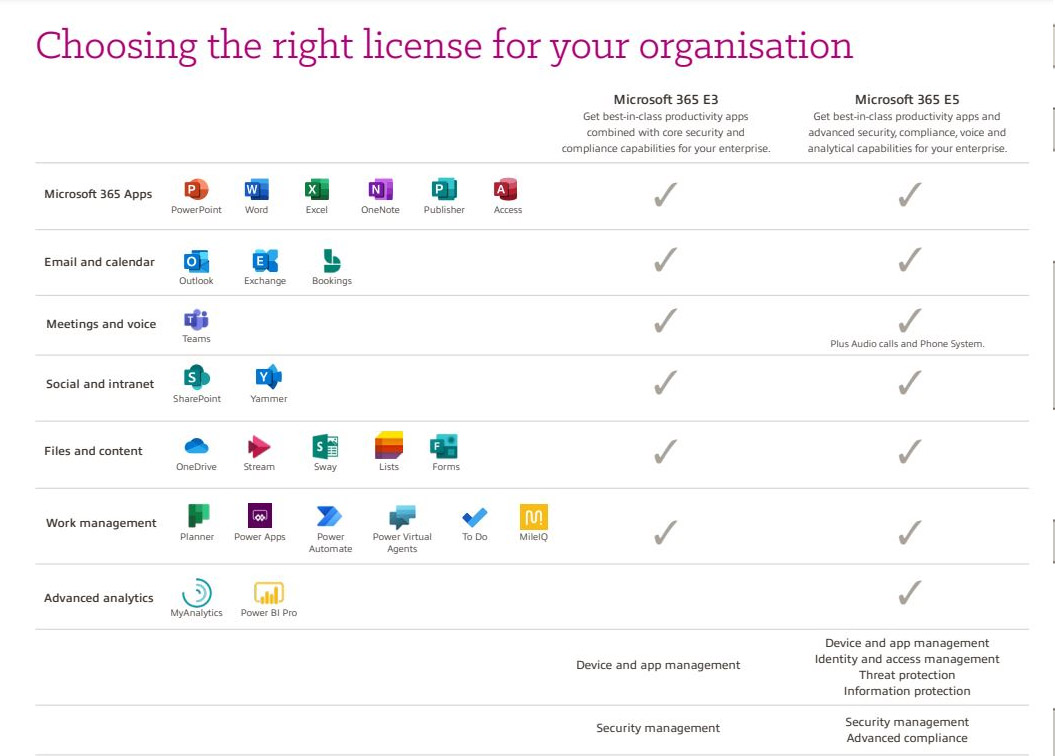 Organise classrooms like never before.
Microsoft 365 for education makes it easy to collaborate without boundaries. Windows 10 / 11 gives educators access to an affordable learning platform that provides advanced performance and security schools can count on — and use to power learning.
Using Office 365, teachers can build curriculum with familiar apps and work from anywhere, on any device. Invite smaller teams to join in on projects, or consolidate larger group projects and see files update in real time, without boundaries.
Microsoft 365 plans
With Microsoft 365, you gain three powerful solutions in one: Office 365, Windows 10 / 11 and Enterprise Mobility + Security. Enable your teams with either Microsoft 365 E3 or Microsoft 365 E5.
Microsoft 365 E3
Office 365 Enterprise E3, Enterprise Mobility
+ Security E3 and Windows 10 / 11 Enterprise E3
Best-in-class productivity
IT security and control
Supports 300 users or more
Licensing optimisation and analysis
Microsoft 365 E5
Office 365 Enterprise E5, Enterprise Mobility +
Security E5 and Windows 10 / 11 Enterprise E5
Advanced security
Business analytics
Supports 300 users or more
Licensing optimisation and analysis
Management and collaboration tools