Why choose Surface Pro X for Business?
Instant productivity

Never lose a second with Gigabit-speed 4G, apps that launch fast and Windows 11. Custom chipsets deliver always-on, quick connectivity you expect from mobile devices in an ultra-thin PC.

Blazing-fast 4G

Stay connected to your customers, your latest projects and your team wherever you work with optional Gigabit-speed 4G LTE Advanced Pro.

Everything in an instant

Multitasking power and ultra-quiet performance combine in an ultra-thin laptop. Microsoft SQ® 1 and SQ® 2 processors6 deliver fast performance with instant connectivity.

Run the apps that matter

Run essential apps, optimised for Windows on ARM, alongside existing 32 and 64-bit software.6 Plus, App Assure provides support for eligible customers with app compatibility issues at no additional cost.12

Silent and fanless

Passive cooling keeps work quiet, even when you're multitasking across several apps.

Ports for multitasking

Two USB-C® ports connect to 4K external monitors, charge your phone, or enable use of a USB drive3 —all while leaving your charging port free.
Stay in touch with ultra-fast, consistent LTE³
Plenty of unplugged power with up to 15 hours of battery life¹
More screen space with virtually edge-to-edge 13" touchscreen
Keep it by your side—7.3 mm thin and starting at 774 g.²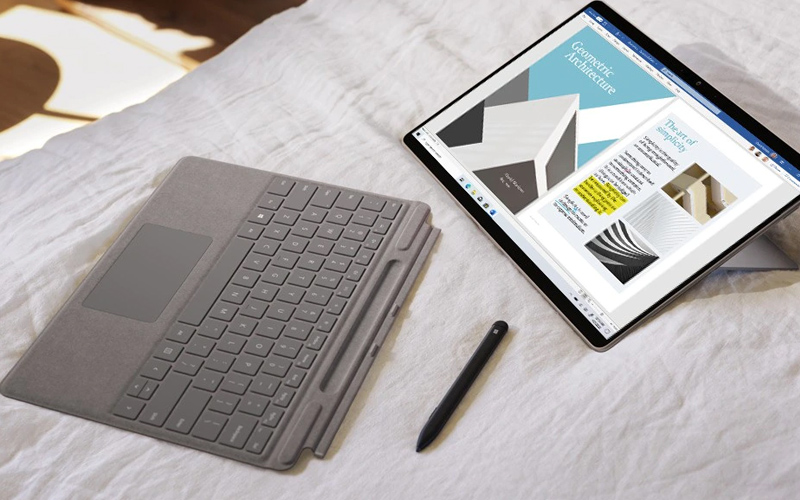 The best of both worlds
Microsoft SQ® 1 and new Microsoft SQ® 2 processors powered by Qualcomm combine what you love about your smartphone with the power of Windows 10.4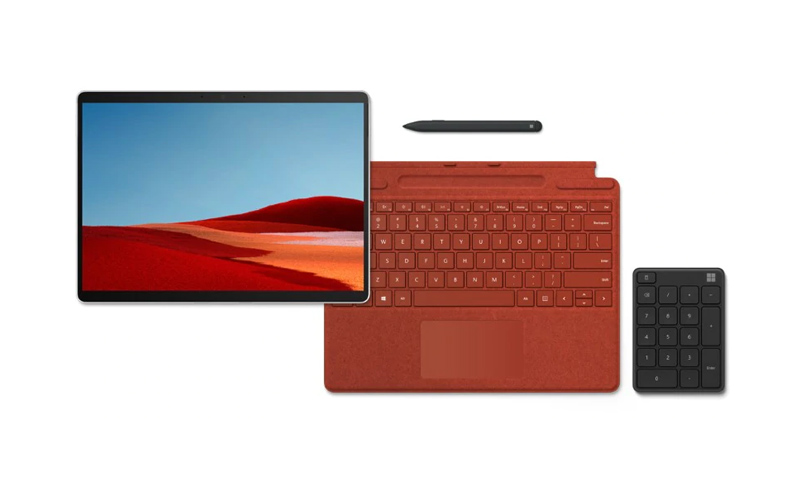 Extraordinary accessories for your new Surface
Personalise Surface Pro X and make it yours with next-gen tools and accessories.*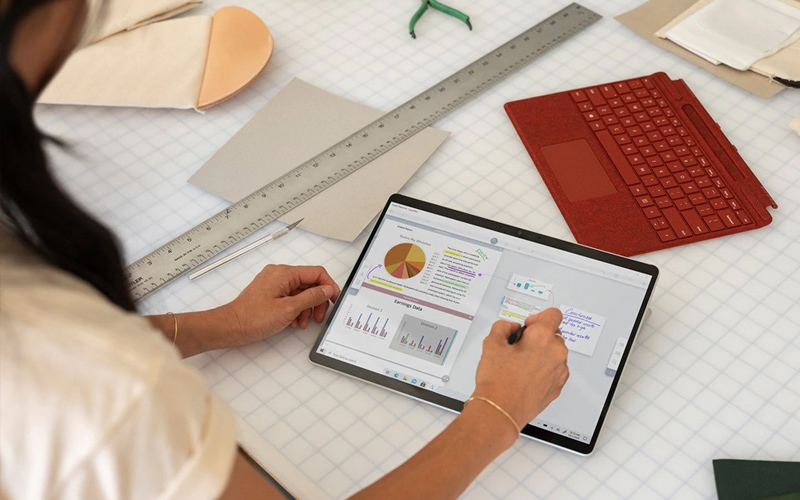 Do more with Windows 10 and Microsoft 365
Create your best work with Microsoft 365* on Windows 10 Home4. Enjoy familiar features like faster logins with password-free Windows Hello sign-in, and keeping photos and files safe in the cloud with OneDrive.
Work every angle
Empower employees with flexibility that frees them to create presentations on an ultra-thin laptop, sign contracts at a comfortable angle, or capture photos.
Find your perfect angle for every task

From thin, 13-inch business laptop to tablet, and from digital canvas to workstation, you can effortlessly adjust Surface Pro X to the position you need with the iconic Kickstand.

A laptop-level typing experience

Make no compromises with Surface Pro Signature Keyboard.3 Type in comfort with a mechanical keyset, optimum key spacing, full function row and large glass touchpad.

Stores securely and always ready

Take notes, sign and sketch with a sharper pen tip than before. Surface Slim Pen 23 stores securely and recharges in Surface Pro Signature Keyboard3 so it's always within reach.
Terms and Conditions Apply
* Surface Pro X Signature Keyboard, Surface Slim Pen, Microsoft 365 and some software and accessories sold separately. [1] Battery life Surface Pro X: Up to 15 hours of battery life based on typical Surface device usage. Testing conducted by Microsoft in September 2020 (Surface Pro X with Microsoft SQ® 1 and Surface Pro X with Microsoft SQ® 2) using preproduction software and preproduction configurations of Surface Pro X. Testing consisted of full battery discharge with a mixture of active use and modern standby. The active use portion consists of (1) a web browsing test accessing 8 popular websites over multiple open tabs, (2) a productivity test utilising Microsoft Word, PowerPoint, Excel and Outlook, and (3) a portion of time with the device in use with idle applications. Tested with Windows Version 10.0.19041.1(20H1) and Edge version 85.0.564.51. All settings were default except screen brightness was set to 150nits with Auto-Brightness disabled. Wi-Fi was connected to a network. Battery life varies significantly with settings, usage and other factors. [2] Weight not including Surface Slim Pen or Surface Pro X Keyboard [3] Service availability and performance subject to service provider's network. Contact your service provider for details, compatibility, pricing, SIM card and activation. See all specs and frequencies at surface.com. [4] Surface Pro X for consumers comes with Windows 10 Home to bring you the powerful Windows features you use most at an exceptional value. If you need additional enterprise management and security tools for the workplace, you can switch to Windows 10 Pro or purchase Surface Pro X for Business. At this time, Surface Pro X will not install 64-bit applications that have not been ported to ARM64, some games and CAD software, and some third-party drivers or anti-virus software. New 64-bit apps are coming to ARM 64 all the time. Find out more in the FAQ.
Read more +